March 14, 2023 | Sarah O'Flaherty
66 years of Art and Life: Inspirational Woman, Artist Tania Long
Throughout history, there have been many creative artists and teachers who have dedicated their lives to their craft. One such artist is Tania Long, who this year is celebrating 66 years of life alongside 66 years of artwork.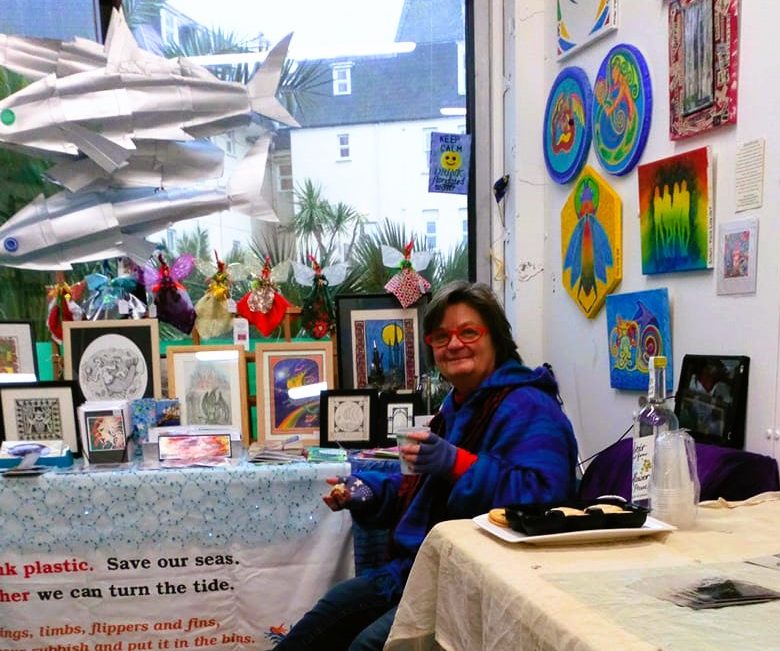 Tania was born in Cornwall, UK and has always been inspired by the Sea throughout her life. She started drawing at a very young age, and this grew into a lifelong passion for art. Tania eventually moved to Eastbourne, where she started volunteering for a local women's charity, WayfinderWoman. Tania has been volunteering with WayfinderWoman since the very start, she's been guiding new volunteers and is always keen to lend her artistic eye to any project or event. The WayfinderWoman Hub is full of her colourful artwork, and it makes it such a bright and inviting space.
Tania's real passion has always been her artwork. She works under the name FantaSea Art. She takes huge inspiration from the sea and nature, as well as having a wonderfully creative imagination and an affinity for mermaids and all things magical. She also often attends beach clean-up events and creates artwork out of plastic bottles and other recycled materials.
Throughout her career, Tania's work evolved and changed as she experimented with new techniques and styles. She has worked in a variety of media, including acrylic, ink, and mixed media. She also has synesthesia, which means she sees different shades of colours when listening to different musical notes. Tania has channelled this into live action painting, where she paints alongside a musical performance and lets her artwork be guided by the sounds and notes of the music. Whilst an introvert at heart, Tania's passion comes to life when she is "in the zone" of a live action painting. She has performed at many WayfinderWoman events, it is absolutely enchanting to watch and the artwork produced is always beautiful!
In addition to her own artwork, Tania has taught Creative Joy art courses throughout her life. She is known for her patience, her kindness, and her ability to help her students find their own artistic voice.
As Tania celebrates her 66th birthday, she looks back on a life filled with creativity, passion, and dedication. Her artwork has been exhibited in many galleries, open houses, and her influence as a creative inspiration, teacher, and friend has been felt throughout the WayfinderWoman network and beyond.
In a world that often values speed and efficiency over creativity and dedication, Tania Long serves as a reminder of the importance of pursuing one's passions and dedicating oneself to a lifetime of creative work. 
Tania's artwork can be found on facebook under www.facebook.com/TaniasFantaSeaArt
Share this article