February 28, 2019 | Dushana Pinfield
Flexi-working and flexi-schooling
Our guest blogger is Dushana Pinfield who faced a dilemma that all working mums face: how to carry on working whilst giving her family the attention she thought they needed.  Dushana decided to choose a creative way to solve her problem of getting her work-life balance right for her.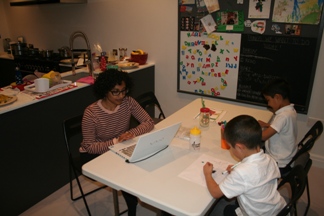 I am a part-time freelancing mum because we are choosing to flexi-school our children. Being a working mum can be tough. You always seem to making some sort of sacrifice but I continue striving to achieve the balance between the 'career me' and the 'mum me'. I'm not sure I'm exactly winning, but it feels like the right choice.  In this blog I share how I am doing it and a bit more about why.
In 2015, with a 4 year old and a one year old, I was working part-time in an office and taking on the child care the rest of the week.  I was 'time poor' and felt I was not really achieving with either! This all came to head in the September when my eldest son started school and we chose to part-time school him. I needed to work differently in order to free up some more time to add flexi-schooling into our family mix.
Flexi-schooling is when your child is in school part time and home schooled for part of the week. For me this is 2 days a week at home with the kids and 3 days (+++) trying to keep my business and career on the track that I want.
England is one of the few countries that sends its children to school at 4 years old (88% of the world's school starting age is between 6-7).  We felt it was too much too soon and flexi-schooling seemed like the perfect solution. It's a constant battle to get the school to allow us to continue flexi-schooling.  It's down to the headteacher's discretion and in a busy, oversubscribed London school it's hard to get them to support our thinking, but maybe this is for another blog…
So I decided to set myself up as a freelance event management specialist.  I left behind the security of a regular salary, sick pay and holidays and in return I got a chance to fit my working life around my family life.
It's not easy.  I am competing in a job market where the majority of employers still prefer full time working, and a bum on a seat, 9-5pm.  This dwindles your job pool significantly and might be why my contracts so far have been with past colleagues!
And that's how I started.  I contacted friends and former colleagues letting them know that I'd set up on my own and was available for work if they ever needed it.  I didn't set myself up as a limited company. I didn't spend hours creating a website. Whilst I may do this at some point, I have been lucky so far and the network of contacts I have built up over my career has been invaluable.
I have had to learn to work differently. Gone are the days when I had the luxury of an 8 hour day to manage my workload.  You learn to break up work tasks into 1-2hr chunks.
I prioritise deadlines, meetings, liaising with external organisations etc during core business hours (when everyone else is at their desks!). I keep the background tasks that do not need immediate collaboration on to evenings, weekends.
I put in extra hours during crunch times and I've learned to ask for help from family.
Most importantly is that even though I may not at my desk, working on my laptop, during work hours I am available on the phone.  Always. (well nearly…). I may have a child in the background shouting on repeat 'who are you talking to mummy… Mummy? … MUUUMMYY?' but I'm contactable.
And what do I get in return? 2 days a week with my children to explore life and learn outside of the classroom.  This for my 4 and 7 year old is currently dinosaurs, monster trucks, biking, skateboarding, museums, supercar spotting and most importantly – one to one time.  Learning in outdoor spaces – bug hunting in the forest, snail racing, supermarket trips – adding up your shop, counting people getting on the bus.
Is this the work/life balance thing that they talk about?
It's pretty hectic, but freelancing has definitely made this balance achievable for me and I enjoy it. Working on contracts keeps things interesting and fresh. You aren't bogged down by an organisation's politics as you parachute in and are that fresh pair of eyes that can refocus a project. You get to learn your trade inside out (in my case organising events) as you have just been hired to do this one job for each client. Working from home means I don't spend time commuting to and from an office. There are no work interruptions. These all definitely help with getting as much out in the short time before I'm back being a mum/teacher!
And this is my motivation and the compromise.  Time is precious and my children are growing up fast.  I am taking this time to see them grow and educate them outside of the norm.
Share this article