May 5, 2021 | Mai Luong
Spring Hope photo competition winner
WAYFINDERWOMAN SPRING HOPE COMPETITION 2021 Judged on Monday 3rd May by Philip Westwood and Sue Clarke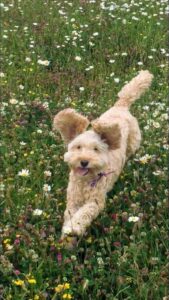 There were 31 entries in total all of which the judges felt were of extremely high quality and technical standard. It was evident that the entrants had spent a great deal of thought and consideration into their photographs.
In order to distinguish between and pick a winner amongst such beautiful pictures the judges based their decision on how they felt the brief of 'Spring Hope' had been most appropriately met.
The photograph we both agreed evoked such an uplifting spirit of the joy of spring and a sense of good times to come was:
No 29 – Dog & wild meadow
This happy, bounding dog, springing its way across a wild meadow.
We both felt that the sense of joy we got from this image would be infectious, after all how could anyone viewing it not want to smile and feel happy inside?
Having the wild spring flowers gave it an added feeling of wellbeing & hope for the future (the impact would not have been the same if it were a green field.)
A well-deserved winner.!
We would also like to highlight two other entries for a special note, both of which in their own ways we felt also particularly enveloped a sense of 'Spring Hope.'
No 26- Crocuses and the Bee.
Out of all the floral entries we had featuring spring flowers this was the closest to portray the feeling of hope as well, having the bee pollinating the stamens. This was also an excellent capture; bees can be so tricky to snap!
No 20 – At Holywell.
Certainly, evoking a sense of both joy and of hope, the crouching girl cupping the water in her hands was especially noted. If every picture tells a story, then this was perfectly captured but the judges felt it needed a bit more narrative to portray the idea of the 'spring' if you were unfamiliar with the story behind it.
The judges thank everyone who took part and made our job that much harder!
Share this article