May 29, 2018 | Kim Morgan
A Musical Celebration of 100yrs of Suffrage
Wednesday May 9th saw us host a musical celebration of the centenary of votes for women at Christ Church in Eastbourne.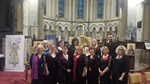 We had some beautiful and haunting music from Fiona Hosford and her golden harp, all of which was either composed by women or had a strong link with female harpists; music to make us smile from the a capella group, Bourne Chorus, who sang some well known classics such as True Colours and With a Little Help From Your Friends.
Kay Cadell delivered some fascinating narration from the Suffragette Diaries and news articles.
The whole event was possible due to our wonderful supporters: SOLegal, Sign Shop Sussex, Tudor History Tours, Ross & Co, Ginger & Sanders, Peter Willson Semi-Grand Piano, Dawson Hart, Crossland & Dudson Training
A lovely evening was had by us all and thank you all for coming.
Share this article