Pier 2 Peer Annual Charity walk, run or cycle 
1 October 2022
Registration is now open for our second annual PIER 2 PEER charity event.  You can join us for just £10 and every pound raised will help us to keep our volunteer run drop-in advice centre open. 
The event is open to everyone regardless of their fitness level.  If you can't manage the whole 16 mile route along our beautiful East Sussex coastline,  join us at at one of three points and complete a 5 or 10 mile leg.  Everyone gets our specially designed, environmentally friendly medal! 
You can move at your own pace, enjoying the company, or set yourself a time or distance challenge.  We've added the option to run or cycle too this year so it truly is open to everyone!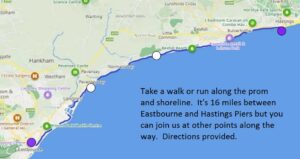 Let's get started
We ask you to register for the event using the button below and pay your registration fee of £10. Registered participants will receive an information pack with start times, route maps, points where they can join or finish along the route, the all-important toilet stops and snack shacks. All participants will receive our environmentally friendly medal for crossing the finishing line at one of the three points. We just need to know where you are going to start and finish. Full details will be supplied in the information pack.
UPDATE: Click here for information on ASLEF rail strike.
Pier 2 Peer Registration
Let's get moving
Saturday, 1 October 2022
From 6.30am check-in at Cadence Clubhouse - map
7.15am Walkers start
7.45am Runners start
8.15am Cyclists take the road
Join us at the Clubhouse for check in and enjoy great coffee and breakfast items with a 10% discount on the day. Cadence is also offering a free guided group option for cyclists. An early start helps us catch the low tide between the Piers and if you join us at Pevensey Bay, the starting time is 9.00am.
Once you register, we will send you your PIER 2 PEER information pack.
Join us at the Clubhouse
Why we do this
In addition to the registration fee we also ask that do your very best to raise at least £25 in sponsorship. Every pound raised goes directly towards supporting the women who come to us for help, advice and support. Amanda, who was homeless and jobless, is one of the reasons why we do this. We are also here to help so please contact us with any queries you may have.
Watch Amanda's story here
Welcome
Freedom Leisure
We are delighted to welcome Freedom Leisure who run Hailsham Leisure Centre as a sponsor for Pier 2 Peer.
They have kindly agreed to sponsor the bottles of water that we will have available for all participants on the day. It's really important to stay hydrated for an event like this.
Freedom Leisure supports the health and wellbeing of local communities and offers a range of services and facilities to help people be more active. So they are a fitting sponsor for an event that is getting people active whilst having some fun as well.
We send them a huge vote of thanks.
Freedom Leisure