Take the spotlight and be the star with our Regal Variety Celebrity Auction and help us raise money to keep our Hub open.   And this is why.  Homeless and jobless, watch Amanda's Story 
The Star of the Show!
Our celebrity auction is off to a sparkling start with a dress donated by Lesley Garrett, CBE  and designed by Jenny Packham, favourite designer of the stars. Lesley Garrett is a well loved opera singer, musician, broadcaster and media personality. This is one of her favourite dresses which she has worn many times in concert and on TV.
A stunning cerise pure silk evening gown, fully lined with sparkling beads, spaghetti straps and fantail train, this gown will bring glamour to any woman, size 12.
Dressmaker to the stars!
Jenny Packham is a British fashion designer who dresses Catherine, Duchess of Cambridge, Adel, Jennifer Aniston, Miley Cyrus and Keira Knightley.
She has also designed dresses for James Bond films Die Another Day and Casino Royale, and Kim Cattrall in Sex and the City. This is your chance to bring star quality to your wardrobe!
The provenance
Lesley Garrett has personally written and signed the provenance and the dress comes with a handwritten note from her thanking the winning bidder for their support to WayfinderWoman.
A reserve has been set for £2,000.
email info@wayfinderwoman.com with your bid before 9 June 2022 when the auction will close. Please include your name, address and phone number and be aware that any bid made constitutes an agreement to purchase should it be the winning bid.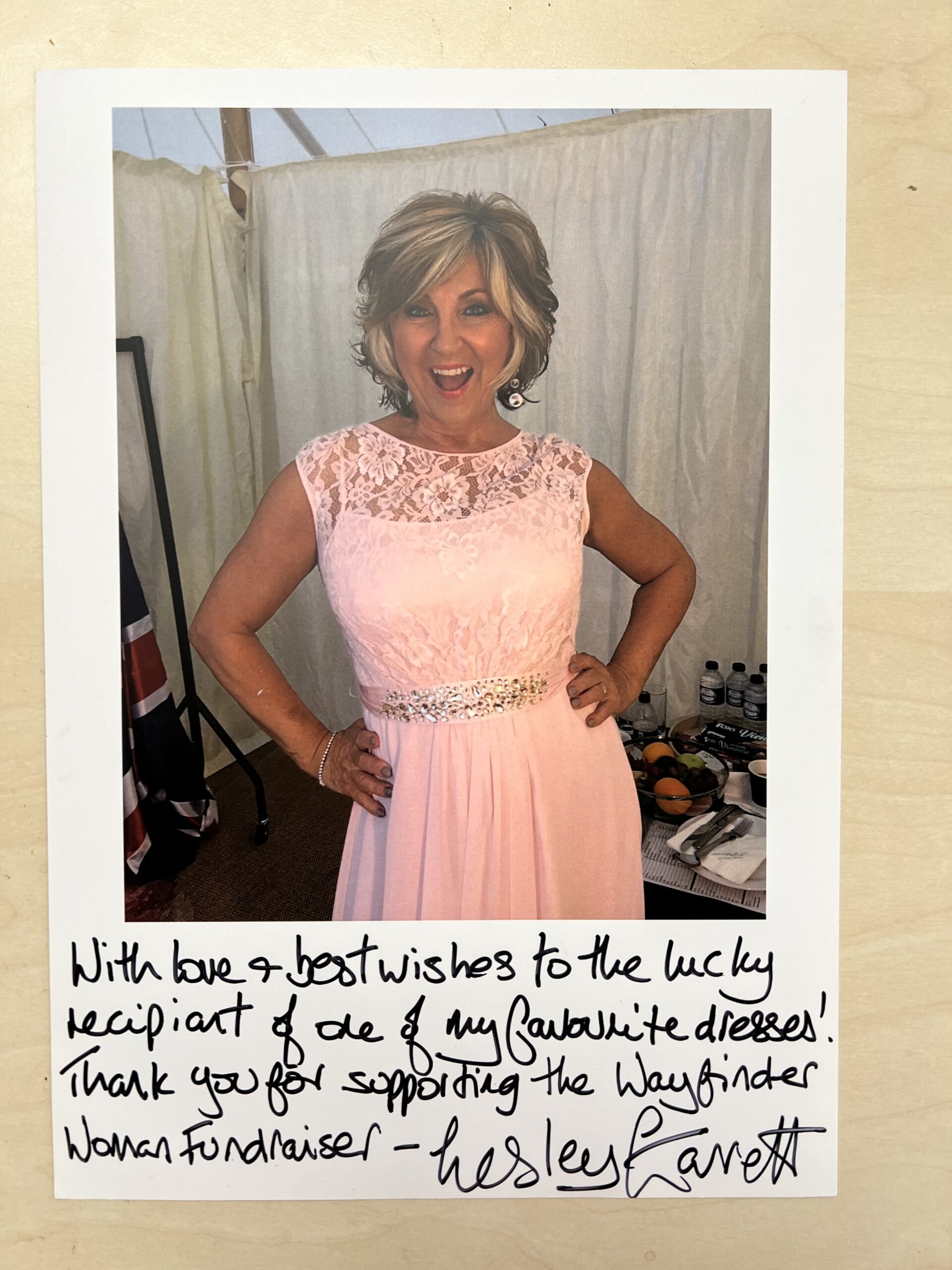 If this is out of your budget, we have something for everybody on our  Regal Variety Silent Auction Page which is running alongside our Regal Variety Show.  For these other fun and practical auction items go to our Silent Auction page
Tickets for the Regal Variety Show on 10 June are available online here, and every Saturday at The Grove Theatre, Eastbourne between 10:00 and 16:00, or at The WayfinderWoman Hub, 8 St Leonards Rd, Eastbourne every weekday morning between 10:00 and 13:00.